Fluoman On Stage !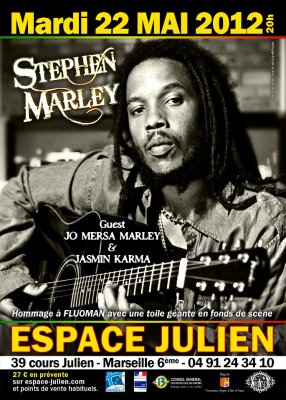 ***
Stephen Marley, son of the legendary Bob Marley and his wife Rita Marley, is a singer and musician who started his career in his elder brother's band called Ziggy Marley and the Melody Makers. Stephen's first solo album, "Mind Control", was released in March 2007. In 2008 he was won a Grammy Award for the best reggae album. His latest album, "Revelation - Part 1 : The Root of Life", won several prizes, including the 'Best Reggae Album of the Year' Grammy Award.
***
In 1980, Fluoman flew to Jamaica where he painted a fresco in Bob Marley's recording studio.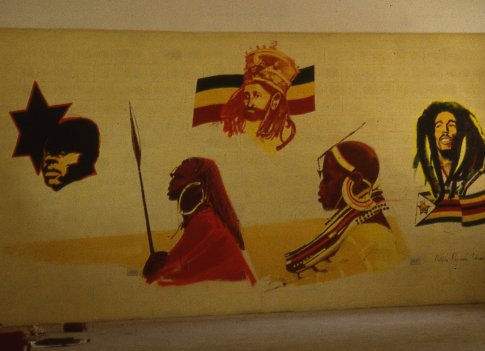 During his stay in Tuff Gong, Fluoman met Stephen Marley (who was 8 years old at the time) and painted this small portrait of him :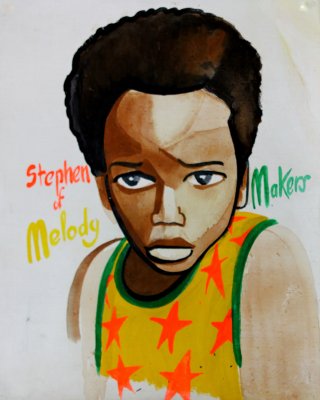 Stephen is the only one of Bob Marley's children to have been painted by Fluoman during his career.
A few years later, in 1988, Fluoman took part in a Bob Marley tribute tour with the Wailers (Bob Marley's musicians) of which the main concert took place in Cayenne, French Guyana.
For this occasion, Fluoman had painted a three-part stage setting in the middle of which is a replica of the portrait he painted of Bob Marley in Tuff Gong…This triptych is one of Fluoman's most imposing backdrops, if only because of its size (the middle part is 4 metres wide and 6 metres long).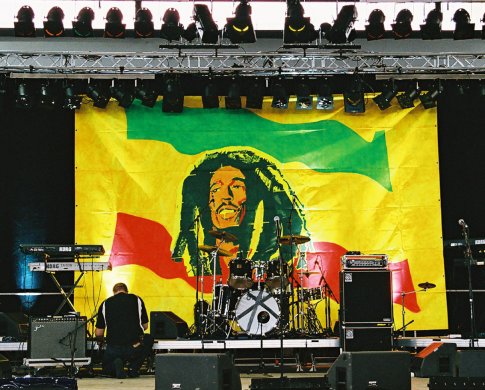 It was exhibited during the concerts given by Lone Ranger and The Congos when the first homage to the painter was organized in Chartres in 2006. [1]
We are delighted to display this painting steeped in history again when Stephen Marley will be on stage in Marseilles…
An event not to be missed...
more informations :